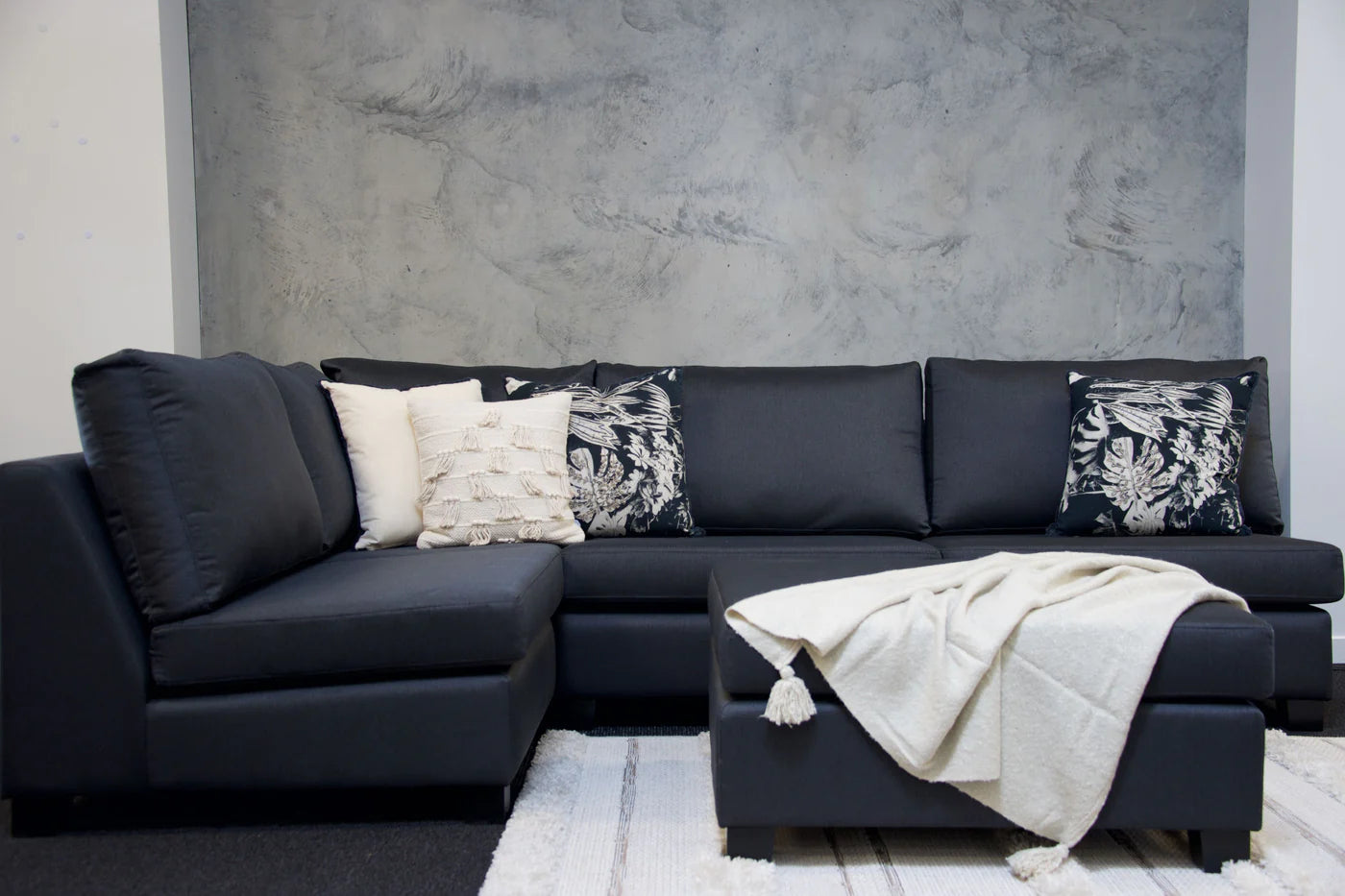 Leather vs Fabric Lounge Suites NZ: Which One Is Best For You?
Selecting the ideal lounge suite for your living space is an important decision that should align seamlessly with your lifestyle and home's aesthetic. In the realm of lounge suites NZ, two tough contenders stand out: leather and fabric. These two options each offer a distinct array of benefits and aesthetics. With Affordable Furniture, we will delve into the differences between the two, ultimately discerning which one harmonises best with your unique home.
Luxury of Leather | Lounge Suites NZ
Aesthetic versatility
Leather lounge suites are the embodiment of warmth, introducing a sense of quality, character, and opulence to your living room. The organic nature of leather ensures that it ages gracefully, acquiring a coveted texture and softness over time. Beyond its tactile appeal, leather boasts a timeless aesthetic that seamlessly complements an array of interior styles. Its versatility makes it a suitable choice for a wide range of design preferences. If you have a liking towards contemporary aesthetics, leather lounge suites are known for their sleek, elegant, and sophisticated appearance, setting them apart from fabric lounge suites. At Affordable Furniture, our Roya Recliner Suite personifies modern extravagance without sacrificing comfort. It has a deep seat, inviting you to unwind and relax in style.
For those who crave ultimate relaxation, consider exploring our Mantis Corner Suite. With deep seating and recliners at both ends, it's the epitome of leisure and luxury. The leather material not only provides comfort but also adds a lavish touch of style to your living room.
Durability
Leather, as a material, stands out for its durability and robustness, with the ability to maintain its form and structure over many years, all while resisting signs of tearing and sagging. At Affordable Furniture, our Preston Recliner Suite exemplifies these attributes by featuring PU leather. Renowned for its easy maintenance, durability, and versatility, this material choice ensures that your living space remains effortlessly modern while upholding the highest standards of quality. The result is a lounge suite that not only looks sleek but also stands the test of time, offering you both style and resilience.
Functionality
Leather, as a material, has a protective coating that renders it highly resistant to spills. Therefore, maintaining a leather lounge suite is hassle-free where a simple wipe or a quick dusting with a dry cloth is typically all that's needed to keep it looking pristine. This ease of care translates to a relatively low-maintenance furniture choice, which can be particularly appealing for those with busy lifestyles. Additionally, leather repels dust, pet hair, and other common allergens, making it a more hypoallergenic option compared to fabric sofas. However, it's worth noting that if you have pets or children, any scratches or marks may be more visibly prominent on leather than they would be on fabric lounge suites.
Allure of Fabric | Lounge Suites NZ
Variety and customisation
Fabric lounge suites are your gateway to a world of vibrant possibilities in terms of colours and textures. They offer the unique advantage of tailor-made design, allowing you to customise every detail to your exact preferences. This level of personalisation provides an opportunity to express your individual style. Whether you're inclined to make a bold statement with a bright, attention-grabbing fabric or prefer a soothing neutral to serve as the centrepiece in a room filled with decorative accents, the options are virtually limitless. Moreover, fabric sofas extend a range of cushioning choices, ensuring that you can select the perfect level of comfort to suit your unique needs. 
For those who seek customisation, our Hazel 3+3 Corner at Affordable Furniture is an ideal choice. This suite empowers you to craft your lounge suite according to your preferences, from the comfort level to the arm style and even the leg colour.
If you want even more personalization, consider our Keara Corner Suite. Here, you can customise the fabric, choose between various colours, and decide whether you prefer dark or light legs as well as standard or throw cushions. The absence of armrests also offers you the flexibility to arrange the lounge suite in multiple configurations, truly making it a versatile and unique addition to your living space.
Comfort and warmth
Fabric lounge suites are often favoured for their superior comfort, as fabric tends to be a softer and warmer material. It offers a cozy and inviting feel that's hard to resist. Fabric is excellent at regulating temperature, ensuring comfort in all seasons. In contrast, leather can become uncomfortably hot in the summer and chillingly cold in the winter, making fabric the more versatile choice for year-round comfort.
If comfort is your top priority, consider our Flint Recliner Suite at Affordable Furniture. This plush electric recliner sofa is designed with relaxation in mind, providing a perfect spot to unwind in ultimate comfort.
Alternatively, our Valley Corner Suite is another excellent choice for those who prioritise comfort. This five-seater suite features square arms, and a T-cushion design, and boasts a deep seating depth of up to 60 cm, ensuring you sink into a world of extra comfort every time you sit down.
Durability
When considering the durability of your lounge suite, it's essential to evaluate your lifestyle and how you intend to use this furniture. High-use areas, especially those with children or pets, require materials that can withstand the test of time. For longevity, opting for heavy domestic fabrics is a wise choice. Another aspect to keep in mind is the potential issue of pilling, where the friction between fabric fibres causes unsightly balls to form on the surface. To mitigate this, select materials composed of natural fibres or textiles with longer fibres which are less prone to pilling. Additionally, fabric materials typically demand more in-depth cleaning, and stains or spills may become permanent if not addressed promptly. 
At Affordable Furniture, our Brooklyn Corner Suite is upholstered in a Linen-style polyester. This material is known for its exceptional resistance to wear and tear, fading, and ease of cleaning, making it an excellent choice for those seeking both style and durability in their lounge suite.
The final verdict of Lounge Suites NZ
In the age-old debate between leather and fabric lounge suites, there is no definitive winner. The ideal choice lies in your unique needs, lifestyle, and the vision you hold for your living space. At Affordable Furniture, we recognise the diverse requirements of our customers, and that's why we offer an extensive range of lounge suites in both leather and fabric. This diversity ensures that you'll discover the perfect match for your home, one that aligns seamlessly with your style and comfort preferences. Contact us today to make the choice that will have you lounging in style and comfort in your beautiful home.