Article: How To Match Your Bedside Table To Your Bed | Bedside Tables Christchurch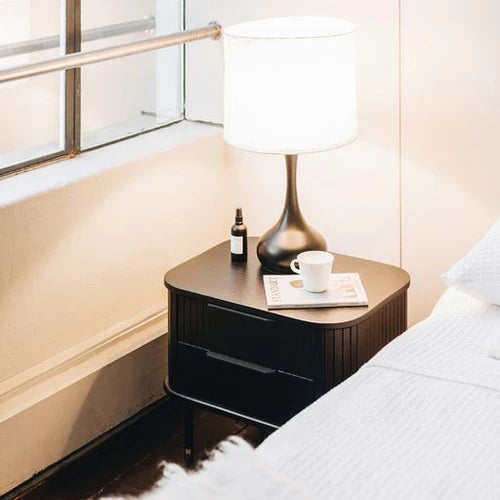 How To Match Your Bedside Table To Your Bed | Bedside Tables Christchurch
Your bedroom is a personal sanctuary, where you begin and end each day. Creating a comfortable and visually appealing environment is essential. One key element in bedroom design is your bedside table. Despite its seemingly small size, it plays a crucial role in both functionality and style. With Affordable Furniture, we'll explore the art of coordinating your bedside table with your bed, crafting a harmonious and inviting space for relaxation and rejuvenation.
Consider your bed's style | Bedside Tables Christchurch
Several factors come into play when coordinating your bed with your bedside table. One crucial aspect is ensuring that your bed has a different finish than your bedside table. For instance, if you have a fabric bed frame, it can be complemented by a contrasting and more robust material like timber for your bedside table. At Affordable Furniture, our Pine Timber Pepper Bedside table boasts metal drawer runners and handles, and its grey-washed finish not only imparts a distinctive look but also ensures durability.
Moreover, in a well-matched bed and bedside table combination, one should take the spotlight while the other plays a supporting role. This approach maintains a sense of balance in your room's design, preventing any single element from dominating. If you prefer your bedside table to be the standout piece, our Avalon Natural Oak Bedside Table (Terrazzo Top) is an excellent choice. It combines beauty and functionality, featuring deep drawer storage and is crafted from oak and oak veneer. With its character-rich top, this piece adds a unique edge to your bedroom.
Size and proportions | Bedside Tables Christchurch
A useful guideline to follow is to ensure that the top surface of your bedside table aligns approximately with the top of your mattress, allowing for a 10 cm variance in either direction. If you have a lower mattress, Affordable Furniture offers the Anders Bedside, crafted from solid oak, and designed with a modern aesthetic to infuse a touch of luxury into your bedroom. The natural allure of the wood grain, accentuated by the graceful curves of the piece, fosters an inviting and serene ambience.
Furthermore, the width of your bedside table should be proportionate to the size of your bed. A substantial bed, such as a king-sized one, needs a complementary bedside table. In the case of a king-sized bed, consider our Paris Bedside. Made from solid timber, it promises enduring quality, featuring a crisp white finish and a warmly hued top, exuding a classic and stylish appeal.
Functionality | Bedside Tables Christchurch
In addition to the visual appeal of your bedside table, it's essential to assess your storage requirements. Opt for a bedside table that offers sufficient drawers or shelves to accommodate your belongings. Consider whether you'd like extra features such as a pull-out tray, a built-in charging station, or concealed compartments.
Affordable Furniture presents the Three Drawers Jessica Bedside, an excellent choice for those seeking functional yet stylish storage. This bedside table features three drawers with a resilient, satiny-smooth white finish. Equipped with high-quality drawer runners and stylish stainless knobs, which are easily replaceable for a personalised touch, this piece ensures you have both practical and sleek storage in your bedroom.
Style with symmetry | Bedside Tables Christchurch
While your bedside tables don't necessarily have to be identical, you can create balance and enhance the overall aesthetic by incorporating symmetrical elements. This can be accomplished by using pairs of decorative items or placing matching lamps on each side of the room. Symmetry brings a sense of order to a space, but it's also worth considering the creative impact of introducing some asymmetry to keep the design dynamic. At Affordable Furniture, we offer an array of decorative items, such as candles and diffusers, to elevate the ambience of your bedroom. These additions provide an opportunity to infuse a unique touch and personality into your space, striking a harmonious balance between symmetry and asymmetry.
Personalise your bedroom with Affordable Furniture
In essence, the key to designing your bedroom is to keep it simple, practical, and infused with your personal touch. Your goal is to create a space that's both aesthetically pleasing and highly functional. Never forget to incorporate your unique style into your design choices. Adorn your bedside table with items that resonate with your personality, whether it's a cherished family photo or an elegant lamp.
Your bedside table should be a reflection of you while harmonising with your bed and the overall room decor. The art of matching your bedside table with your bed involves considerations of proportion, style, and functionality. When executed thoughtfully, it has the power to transform your bedroom into a haven of comfort and beauty. For an excellent selection of bedside tables and a range of decor options, don't hesitate to contact Affordable Furniture today. Let us help you bring your design vision to life.